Holiday Happenings
November 29, 2019 01:00 PM until December 31, 2019 10:00 PM
Slide 1 of 14
Slide 2 of 14
Slide 3 of 14
Slide 4 of 14
Slide 5 of 14
Slide 6 of 14
Slide 7 of 14
Slide 8 of 14
Slide 9 of 14
Slide 10 of 14
Slide 11 of 14
Slide 12 of 14
Slide 13 of 14
Slide 14 of 14
Dear Friends,
Old fashioned holidays have been a tradition at Tippecanoe Place since
the Studebaker family first greeted the season more than a century
ago. Today, we continue to celebrate in the old-world manner of the
late 1800's.

Each year, Tippecanoe Place surpasses the prior, with additional
decorations and festivities to herald the Yuletide. In this, our 39th year
celebrating Christmas. The Mansion will Truly be a "Winter
Wonderland" with Magnificent Decorations Throughout. Check
our calendar below for entertainment or visit our Special Events page for detailed information.
We invite you to join us, share a cup of wassail, and experience the
grandeur of a Victorian Christmas. Have a Happy Holiday Season
and a joyous New Year!

Sincerely,
The Matteoni's
Kevin Jakel, General Manager
Jasmine Flickner, AGM / Director of Events
Shellie Lewis, Manager
Chelsea Bader, Administrative Assistant
Kippard Peters, Executive Chef
Doni Watson, Pastry Chef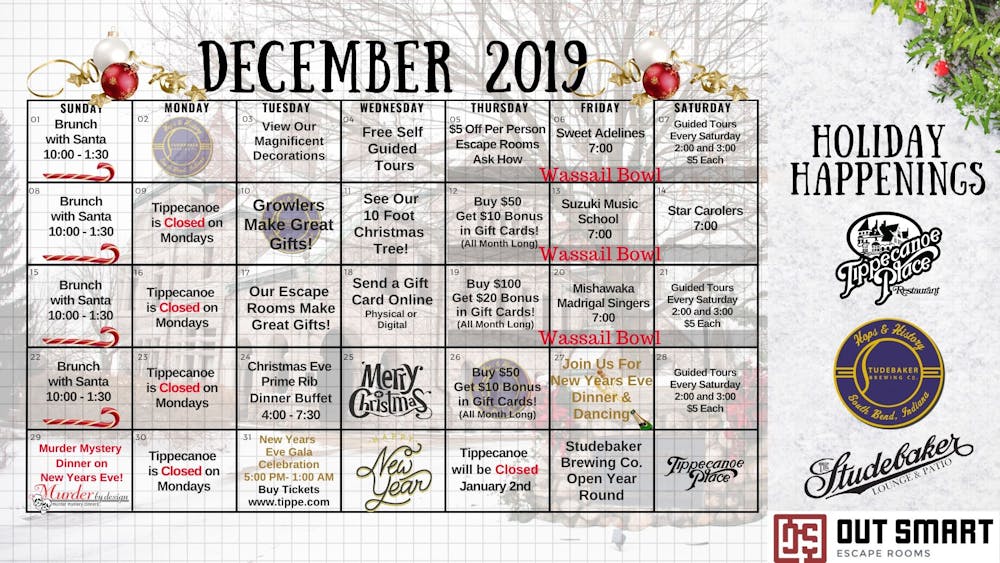 Call (574) 234-9077 for more information about our Holiday Season